Homepage
Donor of the Month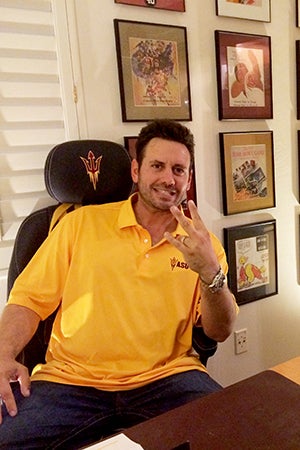 Scott Williams
"Going to school with an ASU backpack and flying out here (Arizona) for games. Even growing up in California I was still an ASU fan and pretty much knew I was going there as far back as I can remember."
Around thesundevils.com
LINCOLN, Neb. -- The Arizona State track and field program started the 41st Annual Frank Sevigne Husker Invitational on Friday hosted by the University of Nebraska, and redshirt sophomore Magdalyn Ewen threw to a first-place finish in the women's weight throw.
Sun Devil Hockey returned home Friday night and skated to a 3-3 tie against Wisconsin-Eau Claire at Oceanside Ice Arena.
Hempen scores season-high 20 points and becomes the program's career leader in 3-pointers.
It is the mission of the Sun Devil Club to build a community of members charged with the responsibility and ability to shape the destiny of Sun Devil Athletics through their annual support and involvement.