Homepage
Donor of the Month
Chuck Martin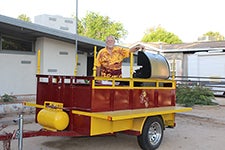 Chuck Martin has attended Sun Devil Athletics events since the 1950s, sporting his Sparky trailer and truck all around town.  
Around thesundevils.com
What made these students special in the spring in the classrooom? All the details here...
From a conversation in Ray Anderson's office to the first Division I game, the story of Sun Devil Hockey.
Five schools that qualified for last year's NCAA Tournament and a sixth that advanced to the second round of the WNIT comprise half of Sun Devil WBB's non-conference schedule announced by head coach Charli Turner Thorne on Tuesday.
It is the mission of the Sun Devil Club to build a community of members charged with the responsibility and ability to shape the destiny of Sun Devil Athletics through their annual support and involvement.