Homepage
Donor of the Month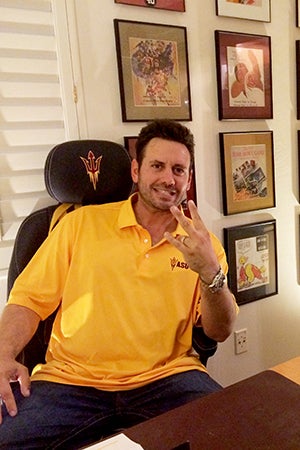 Scott Williams
"Going to school with an ASU backpack and flying out here (Arizona) for games. Even growing up in California I was still an ASU fan and pretty much knew I was going there as far back as I can remember."
Around thesundevils.com
The No. 22/20 Arizona State University softball team will open the 2015 season this Thursday, Feb. 11 as it welcomes 31 other teams to Tempe in celebration of the annual Kajikawa Classic.
TEMPE, Ariz.—The Arizona State beach volleyball team, competing for the first time as an NCAA sanctioned sport this season, announces the 2016 schedule, which begins with the Maroon and Gold Scrimmage on Friday, Feb. 26.
PALOS VERDES, Calif. - After starting the final round five strokes out of the lead, No. 38 Monica Vaughn tallied seven birdies to come from behind and earn her first individual victory of her Arizona State career.
It is the mission of the Sun Devil Club to build a community of members charged with the responsibility and ability to shape the destiny of Sun Devil Athletics through their annual support and involvement.