That much is given, much is expected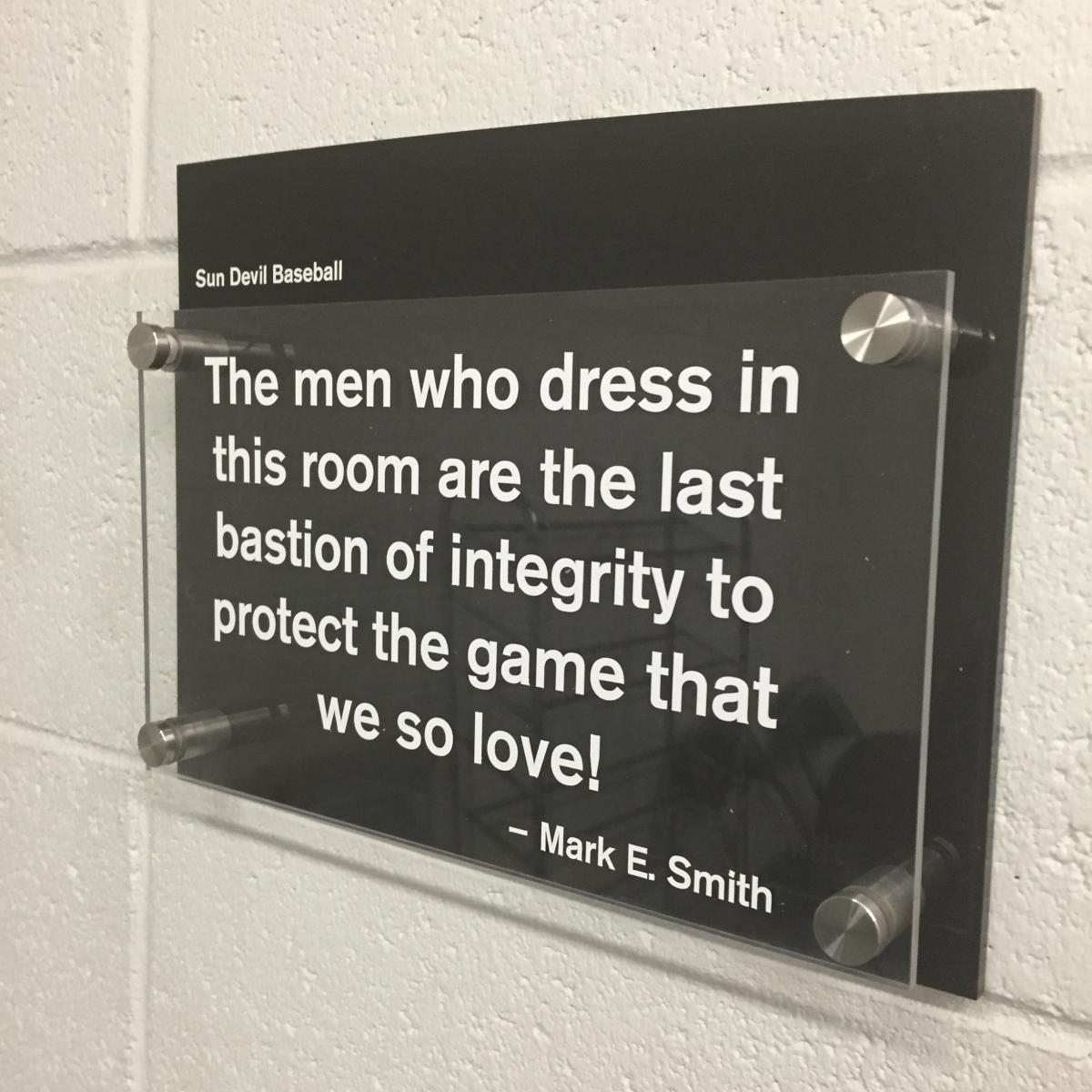 Mark Smith sits in the ASU Karsten Golf Course Clubhouse, the Sun Devil Women's Golf 2017 National Championship trophy to his left, Sun Devil Men's Golf alumnus Paul Casey in the opening round of the PGA Championship on a TV over his right shoulder.
A supporter of both programs for the past few years, he swells with pride as he dives into Arizona State University's culture, the Phoenix Valley community and the people associated with Sun Devil Athletics.
"We should try to make things better for the people that paved the way for us and gave us what we have, and we should find ways to make it better for the people that are coming after us," Mark says.
He is passionate about college athletics and supports a wide range of colleges and universities, from Wisconsin-Green Bay to UT-Chattanooga, Notre Dame to Tennessee. He was introduced to Sun Devil Athletics in 2008 through a chance meeting with lifetime Sun Devil Club Board Member Don Carson. Don invited Mark to sit with him for a men's basketball game, and the rest is history.
"The community in which you live in and the culture I grew up with," Smith says, "make ASU a natural fit."
Mark endowed the Mark E. Smith Managerial Scholarship for the baseball program in 2013, the first scholarship for a student manager at Arizona State University, and over the years has also given annually to baseball and men's and women's golf, as well as named the Umpire's Room at Phoenix Municipal Stadium. 
Mark is not your typical Sun Devil Club member.
Giving back is in Mark's blood. His father, Henry "Hank" Smith, opened the first McDonald's restaurant in Cleveland, Tenn., in 1973, and over the course of four decades was involved in numerous community initiatives and projects throughout southeastern Tennessee. Mark has continued, and since grown, his family's legacy of giving back.
Recognition, appreciation and acclaim are not a part of Mark's lexicon. When he believes in an organization's cause and mission, he doesn't wade into it; he plunges.
Mark lives by the mantra 'that much is given, much is expected.' He believes we do not only owe it to ourselves to give back, but also to others, whether it's through one's time or money. He goes into detail about one of the greatest thrills in life, which he explains is doing something for others who have no ability to do anything for us in return.
"The word is henchman," Mark explains. "Some people have a negative connotation of henchman because of the movies. Well a henchman is one who works for the greater good and seeks no glory."
Mark is not your typical henchman.
In between confessing his hatred for losing, whether it's a game of dice or the team he supports on Saturday, and acknowledging the importance of wins and losses on community support, Mark cuts to the core of why he loves collegiate athletics: the impactful, life-changing connections he's been able to make.
"If you've ever been a part of a team, you don't miss the travel, you don't miss practice, you don't miss the games," Mark says. "What do you miss? You miss the relationships with your teammates, the coaches and the people."