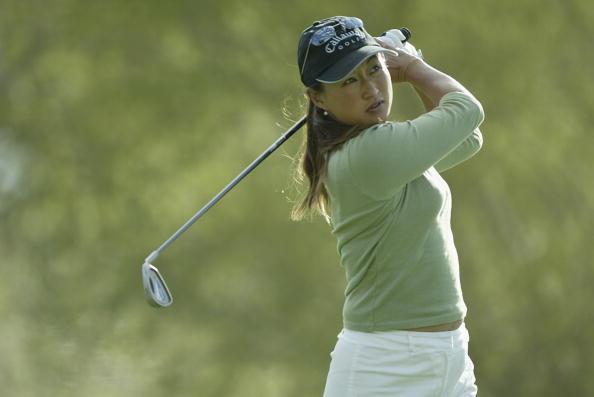 A three-time All-American.  A Sun Devil Athletics Hall of Famer.  The first golfer ever (male or female) to win the U.S. Public Links and U.S. Amateur in the same year. More than a decade on the LPGA Tour.
Pearl Sinn-Bonnani's athletic accolades and accomplishments on the golf course are rivaled only by her passion for giving back to others.
"I've been a benefactor of a lot of people doing a lot of good in their community," Pearl says. "Ever since I was little I've always benefited a lot from other people volunteering their time and resources. That always resonated with me and if one day I was in a position to give back, I would do my part."
Over the years, she has not just put herself in that position, she has filled up an entire scorecard: as a golfer, a coach, a philanthropist, a mother, a daughter, a role model.
Since stepping away from the professional golf circuit and recently retiring from coaching after eight seasons as the head coach of the reinstated women's golf program at Cal State Fullerton, Pearl has more time to do the things that bring her joy.
She has more time to spend with her family, which includes traveling with her high-school-age daughter to her volleyball matches and watching her fourth-grade son play hockey.
She is in talks with her husband about resurrecting her foundation - the Pearl Sinn-Bonanni Foundation that supports breast cancer awareness - which has not been active since her professional playing days.
She is working with young kids from the Manhattan Beach area and showing them the life-long rewards of golf and sports in general.
And she is beginning to work closely with the Sun Devil Club, Sun Devil Golf and fellow Arizona State golf alums to help raise support for the men's and women's golf programs move to Papago Golf Course.
"ASU and [head coach] Linda Vollstedt were really good to me, and golf provides young people a unique education that translates to other areas of life," Pearl says. "When I was at ASU we had to drive all across the Valley to play. The new facility at Papago Golf Course will provide these young women and men a great home."
For more information on supporting the Sun Devil Men's and Women's Golf programs, including naming opportunities at their new facility at Papago Golf Course, contact the Sun Devil Club at 480-727-7700.
Together we can change the future of our Sun Devil Golf programs.