A Vision to Enhance Wrestling, Lifelong Learning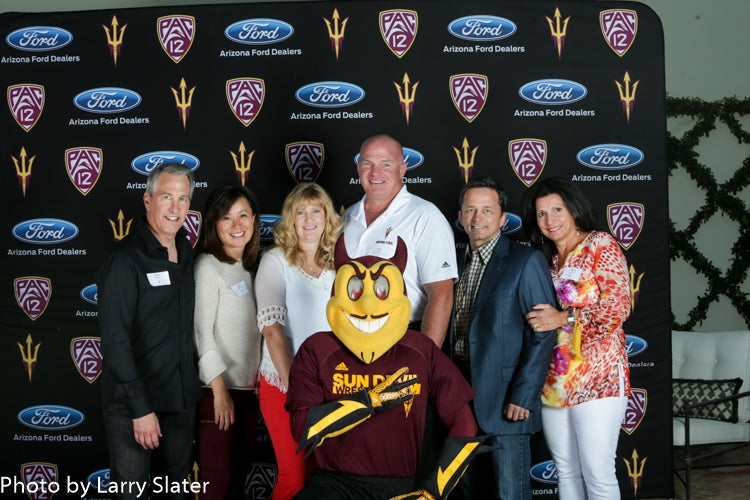 For two years after David Cantor's wrestling career ended, every night he'd dream about wrestling. As he progressed through law school and started his career as a trial attorney, his dreams turned to his law firm. When he started coaching wrestling, his dreams shifted once again to the mat, but with a focus on how his kids were progressing. 
David is in his element when he's thinking about wrestling, subconsciously or not, and lately he's been thinking a lot about Sun Devil Wrestling.
He wrestled at Northern Arizona for two years before he transferred to Arizona State, where he toyed with the idea of being a walk-on for then-head coach Bobby Douglas, but ultimately decided against it. When he had the itch to get back on the mat, he signed up for an open tournament on campus and was one of two fraternity members, along with Lane Neville, to make the finals. A nasty leg injury derailed his title run, but a friendship, forged from wrestling, was born.
Decades later, David sat down with Lane, Bobby Williams and Zeke Jones to talk about ways to help Sun Devil Wrestling enhance its fundraising efforts. David's idea was to ask supporters to sponsor a weight class, from 125 pounds up to heavyweight, with a pledge of four years, the typical length of a student-athlete's career.
"Wrestlers go up and down in weight, they transfer, they get injured," David says. "By sponsoring a weight class, you can have a real investment in the program, no matter who is out there."
This idea came to fruition on a late October evening as David and his wife, Joo, hosted "An Evening With Sun Devil Wrestling" at their home in Paradise Valley. Among wrestling supporters and friends, Sun Devil legends Cain Velasquez, Thom Ortiz and Anthony Robles, and Olympic gold medalist Helen Maroulis, along with others, the wrestling program sponsored six weight classes and raised more than $400,000.
"When I meet people who wrestle, I can see the camaraderie and connection they instantly have with each other because they know what it look to get through a match or a season," Joo says. "And I've seen what a great foundation, for a young man or a young woman, the sport builds and it's amazing how it can help you grow as a human being."
Wrestling was a big part of David's life before Joo met him, and since he's become involved again in the sport, whether through coaching, volunteering, fundraising or just watching, she says she's been able to see the passion he has for it firsthand.
David's passion for wrestling and collegiate athletics stems from his belief in the life skills they impart on people. He attributes his time as a wrestler, and specifically the tenacity he learned from the sport, as a driving force for his accomplishments in the courtroom.
"If someone is already set to work an eight-hour day, I'm ready for a 12-hour day," David says. "Wrestling just makes you tough enough to be the best at what your chosen field is."
It's clear David looks at collegiate athletics as a stepping stone for future successes as five former Div. I student-athletes from four different schools and four different sports work for David, including a Sun Devil swimmer and wrestler. And it's this reason why he believes so fully in Zeke's holistic vision for the Sun Devil Wrestling program.
"When you come to Arizona State, it's not a four-or-five-year plan, it's an eight-to-10-year plan," Zeke says. "You win national titles, you get your education and graduate, and then you work on a master's or a Ph.D. ASU gives you a community for life."
Citing a law school rising in the national rankings and a litany of advanced degree options, David shares Zeke's view of ASU and the Phoenix Valley as a whole. And while he appreciates that most kids arrive on campus with Olympic glory on their minds, he understands most of them need a plan for when their wrestling days are over. 
"Phoenix as a vibrant, thriving community with great weather and a great business environment for post-wrestling life."