Creating Sun Devils for Life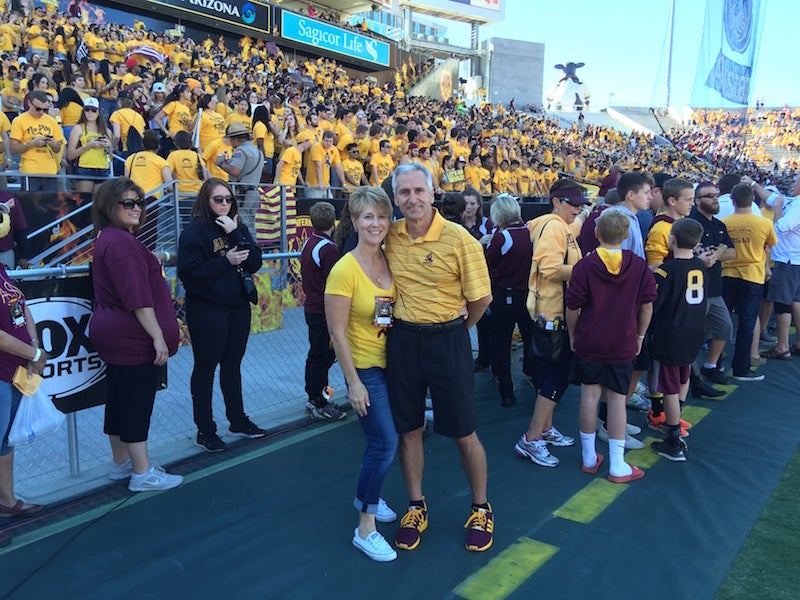 By Gabby Munoz, SDA Communications
Christine Michaels grew up more passionate than most young children about Sun Devil Football. Often she would purchase a ticket for $5 and make her way to the game to sit in the end zone and watch the Sun Devils take on their latest opponent.
As a 1987 graduate of Arizona State University, Michaels notices the impact that Sun Devil Athletics had on her as a child, and she integrates the same passion she had as a young girl into her current family life through the Junior Sun Devil Club for her two children.
"The Junior Sun Devil Club brings awareness to Sun Devil Athletics and its student-athletes," Michaels said. "When my children receive the lanyard and the annual Sun Devil in Training shirt, it is a big deal to them."
The Junior Sun Devil Club is an opportunity for children to experience a lifestyle that most Sun Devil fans would envy. For a $25 annual fee, children are given free admission to selected Sun Devil Athletics games, Sun Devil merchandise, invitations to club events, while having the ability to learn and interact with Sun Devil student-athletes.
"We are a huge sports family and understand that sports can be a big conduit to what your university can do," Michaels said. "But we recognize it is more than just the sports. We have an appreciation for the time and the commitment it takes to be a part of a team. Exposing your children to any of the qualities that the student-athletes possess – more power to them."
The atmosphere of any university and the attitude of its fan base also have an impact on the school's success, both academically and athletically.
"Once people experience a game, it becomes a bug," Michaels said. "It doesn't matter if they win or lose, true fans will be there, which is what the Junior Sun Devil Club starts at a young age. You then have 'disciples' spreading the word about Arizona State and Sun Devil Athletics."
Currently, Michaels and her husband Chuck, who graduated from Arizona State in 1983 and serves as a member of the ASU board of trustees, reside in Northern California with their two children, Samantha, 12, and Benjamin, 10.
"Living so close to Cal and Stanford, we can see the Sun Devils play whenever they come to the area," Michaels said. "It is nice to take advantage of the experiences. The student-athletes go out of their way, and the kids recognize it. You don't get to experience that unless you are a part of this opportunity."