A Quick Message from Sun Devil Triathlon Head Coach Cliff English: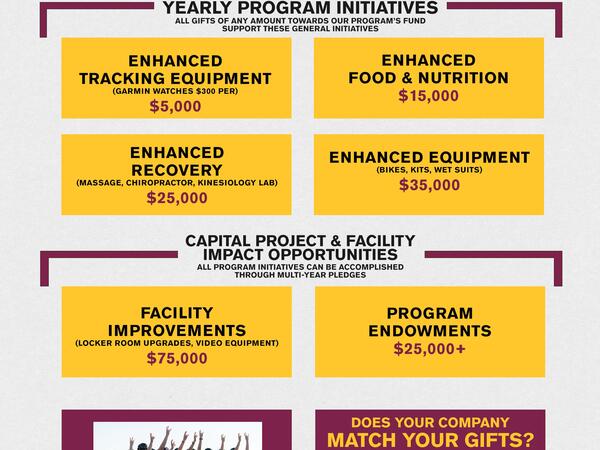 To gain additional knowledge of philanthropic opportunities that directly impact Sun Devil Triathlon, please contact Coach Nicole Welling at 480-356-2786 or Nicole.Welling@asu.edu
Your gift to the Sun Devil Club using the link below will directly impact Sun Devil Women's Triathlon! 
Thank you for your support! 
Your donation to the four-time National Championship Team, Sun Devil Triathlon, helps provide them with the necessary tools needed to succeed. Not only are you investing in the performance of our student-athletes, but you are impacting their overall development as individuals. Your contribution will assist in funding for meals, equipment, and travel to help them develop on their journey to greatness.  
Triathlon is currently an emerging sport for women in the NCAA and we are only 5 schools away from the required 40 to achieve full sponsorship status. ASU has been pushing this movement and continues to help USA Triathlon with institutional recruitment, especially at the Division I level. Your support for the program also helps the greater movement of women's triathlon as a whole, providing opportunities for young triathletes for years to come!
Endowments established in support of Sun Devil Triathlon