Keeping Maroon and Gold in the Family
Born and raised a Sun Devil, it was natural that Dr. Dale Guthrie would gravitate towards supporting Sun Devil athletics programs.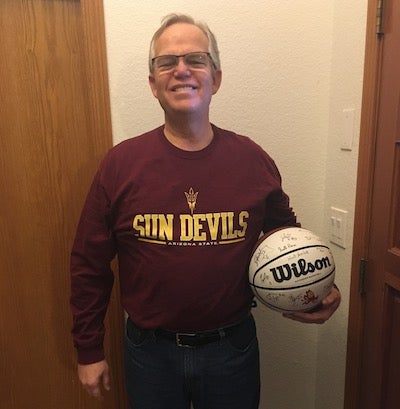 Dale grew up surrounded by Arizona State alumni. His grandmother was a part of one of the first graduating classes of the Tempe Normal School, while his father graduated with three degrees from Arizona State College.
"My father had taken us to ASU basketball games since I was five. He has held tickets in three different gymnasiums over the years – two being the Activity Center and Wells Fargo Arena. So it's a long tradition of ASU basketball in my family," Guthrie said.
After coming back for his last two years of residency as a young pediatrician in 1987-88, Dale and his wife "bought their first two tickets" and from there, "became avid basketball fans," Guthrie said.
Dale considers the basketball program part of the family. As he was raised watching and enjoying the game, Dale and his wife Jo Ellen also shared the special childhood pastime with their five daughters and son.
"They always liked to go to games growing up. Our son, Will, has always been a familiar sight at basketball games," Dale said. "He makes signs for all the outgoing seniors and some of the basketball players have even come to our home to see him. After last season, John Gilling gave him a signed shoe. We really have a great time getting to know the players on that level."
The entire environment of the Sun Devil basketball program continues to entice the Guthrie family to come back year after year. Getting to know the people, players and coaches is one of the main reasons Dale and his family enjoy Sun Devil Athletics so much.
"When you become close to people that you care about it makes the entire atmosphere more enjoyable," Dale said.
Dale and his family continue to carry on the family tradition, owning 15 basketball tickets spread amongst his five daughters, son and 13 grandchildren.
"I have a sign-up sheet at the office as well," Dale said. "I like to reward the great staff that we have at the pediatric office and I like to think that if we get someone new there for a game, and they like it, maybe down the road they will buy tickets and go and support the program we have come to love."
The Guthrie family has been a part of the ASU culture for many years and enjoys seeing their donation go to programs that facilitate athletes to be the best they can be.
"We support the programs and the direction they are going. The university continues to stress character and quality people, helping young men become great men and young women become great women, and we enjoy being a part of that continued tradition," Dale said.