Leaving a Legacy - Mark Parris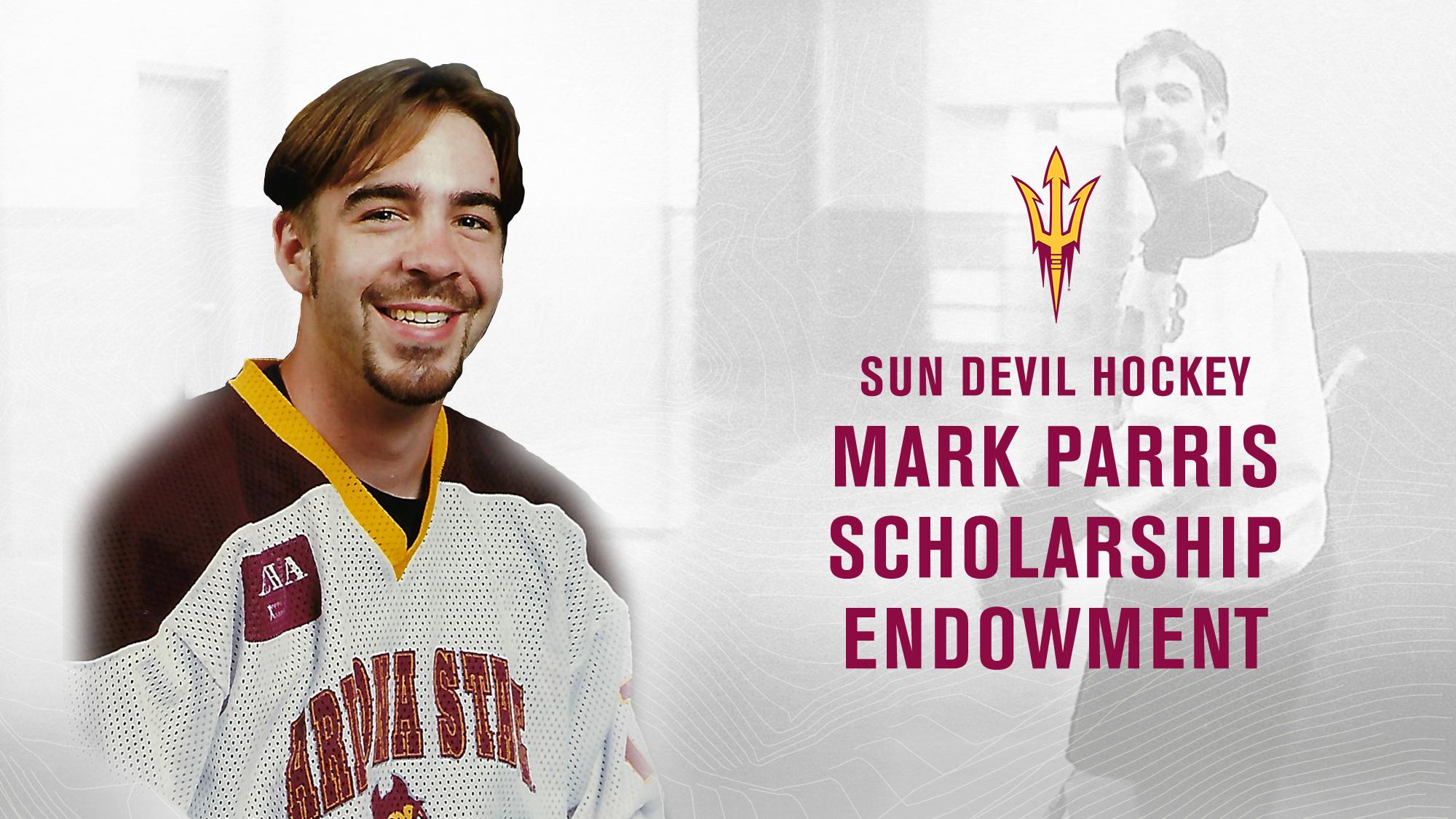 Leave a legacy.
It's a phrase and philosophy instilled upon student-athletes at Arizona State University. Within the Sun Devil Hockey program, still in its pre-kindergarten years of Division I college hockey, it's a mantra head coach Greg Powers impresses upon his players and while on the recruiting trail.
For a program in the middle of just its fourth, full NCAA season, legacies are still being constructed with just one graduating class under its belt.
However, a long lineage of alumni laid the foundation during its years as a non-financed, club program for what has evolved into the new and trendiest college hockey destination.
One of those instrumental players was Mark Parris.
A Phoenix native, Mark took the utmost pride in donning the Maroon and Gold, playing for four seasons from 1994-98. During his sophomore year, a freshman goalie arrived from Indiana by the name of Greg Powers, and together, they would be catalysts in the transformation of the program to ACHA prominence.
"He was one of our captains. We were a tight knit group, everyone hung out," said Sun Devil Hockey head coach Greg Powers. "He was the social director and wanted to organize what the team was doing and where we were going after games. He was the social, interactive guy with everybody. If there was something going on with the team, he was setting it up."
After years of succumbing to the team down south, Parris and Powers helped shift the momentum, ending the University of Arizona's 68-game winning streak over the Sun Devils in 1995-96. By Parris' final season in 1997-98, they swept the Wildcats.
In the years since the two were teammates, Powers and Parris remained in the Valley and in constant contact. After Powers rejoined the program as a member of the coaching staff in 2008, Parris frequently was one of the first to send a congratulatory text or call as the program continued to rise to national prominence.
"Mark was an unbelievable teammate and guy, and one of the mainstays in ASU hockey," said Powers. "He never separated himself from the program. He was always involved at every level of the program – from the ACHA days to our transition to NCAA. He was one of the first to text or call after a big win, and when we went Division I, he was one that it meant so much to because he knows every progression of the program and what it went through as a local guy. He bled maroon and gold."
On October 28, 2018, following the team's home sweep of Omaha and best start in program history at 6-2-0, Mark sent coach Powers a congratulatory text saying how proud he was of everything coach and the team was accomplishing.
"Hockey was part of Mark's DNA. He loved the game ever since he was a toddler, and he held the ASU program very close to his heart," said Kim Couture, Mark's sister. "He was excited for where it was going and how far coach Powers and the team has come. Mark was passionate about two things: people and hockey. That's who he was."
It would be the last time the two former teammates talked. Mark Parris passed away in his sleep on October 29, 2018 in his home in Peoria. He was 44.
"It's just crazy," said Powers. "He is somebody that helped the gradual progression of this program on and off the ice with support in every way, and it would mean a ton to him if he had a legacy attached to what we're doing here. And now he does."
Since hearing the news, Powers immediately felt drawn to honor his former teammate and began establishing the Mark Parris Scholarship Endowment. The scholarship will support a hockey student-athlete beginning in 2020-21 and will be the first endowment scholarship named after a former player.
"Whoever earns this scholarship has to be thankful every day they put on the jersey, because that was the case with Mark. He never took a day for granted playing hockey here, even though it was club hockey back when he played," said Powers. "He was a really good player and a local kid who took a ton of pride being part of an era at the club level that took hockey at this university to a new level.
"Someone who has a passion for hockey, and sees it for more than just a game," said Couture of the recipient. "Mark applied the skills he learned from when he was a Sun Devil in a lot of other dynamics of life. It's a team sport and is all about supporting other players around you. Mark was known as a defender and a team player, and that's who should represent this scholarship."
Mark Parris was unwavering in his support of the program from the day he stepped foot on campus, and continued until his final day.
Now, his legacy will live on for generations to come.
"Mark is not one who liked the limelight as he preferred lifting others up around him," said Couture. "But he would be thrilled to be a part of this – he's probably grinning ear to ear – and for his legacy to continue, and continue to help others as the team player he was. To be able to contribute to someone's education, to hopefully help them move forward in their hockey careers, and help those in need."
If you are interested in joining head coach Greg Powers and other former Sun Devil hockey alumni in honoring Mark Parris through his scholarship endowment, you can donate here.