Barrie Brings His Sun Devil Pride to ESPN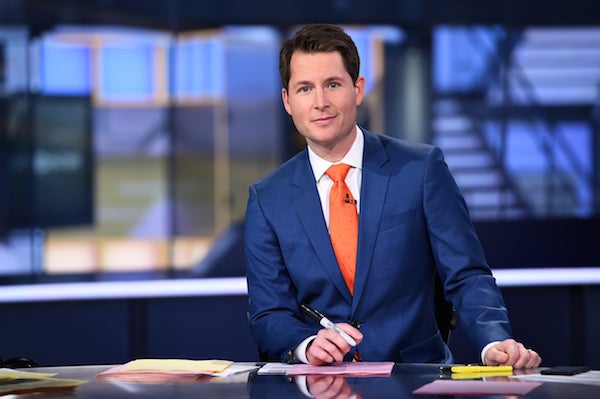 Photo courtesy of ESPN

By Gabby Munoz, SDA Communications
ESPN's Matt Barrie takes great pride in being a native Arizonan. Born and raised in Scottsdale, Ariz. Barrie attended Arizona State University from 1997-2001, where he earned a degree at the Walter Cronkite School of Journalism.
"The area is every bit of who I am," Barrie said.
Now working as an anchor on SportsCenter, Barrie credits his career enthusiasm and success to what he learned and experienced at Arizona State.
"If you pick the right university, there is no question that it can help change your future. The Walter Cronkite School taught me the things I needed to pursue a successful career," Barrie said. "It was also about the experience at Arizona State. I was in a fraternity, attended football games, went to socials and just had a lot of fun. It was the right place to teach me balance, which really helped out in the real world."
While he is a proud Arizona State alum, Barrie says he understands he has to balance professionalism in the workplace at ESPN and his Sun Devil pride at home.
"A lot of people are proud of the university they graduated from but we all understand the job we have to do," Barrie said. "However, if the opportunity comes up, I always try to slide Arizona State in somewhere priligy online."
After graduating from ASU in 2001, Barrie landed his first TV job at a NBC affiliate station in Wausau, Wisconsin, where he worked from 2001-03. He made stops in Oklahoma, South Carolina and Dallas before making is way to ESPN in 2013.
Although he was involved in various extracurricular activities during his college days, today Barrie admits that his work schedule continues to be the hardest part of his job.
"It's not a 9-5 job and definitely not a Monday through Friday job. There are always holidays to work and early morning to prepare for," Barrie said. "It takes time to acclimate towards a schedule like that but it's all worth it. I think about how I was able to work my way up and think 'Wow, I would never do that again but I wouldn't trade it for anything.'"
Since attending Arizona State, Barrie knew he wanted to give back to the university that helped shape his career and love for sports.
"Growing up, we had season tickets to the football games, which naturally made me a huge college football fan. After college, I knew I wanted to do my part in helping out and about five years ago joined the Sun Devil Club and recently just got back involved doing my part." Barrie said.
With each team covered and each city passed through, Matt Barrie continues to be filled with Sun Devil pride. And although he must remain more objective than most Sun Devil fans, Barrie continues to acknowledge the school and teams that helped get him to where he is today.