Sun Devil Club Welcomes New Associate AD, Vince Volpe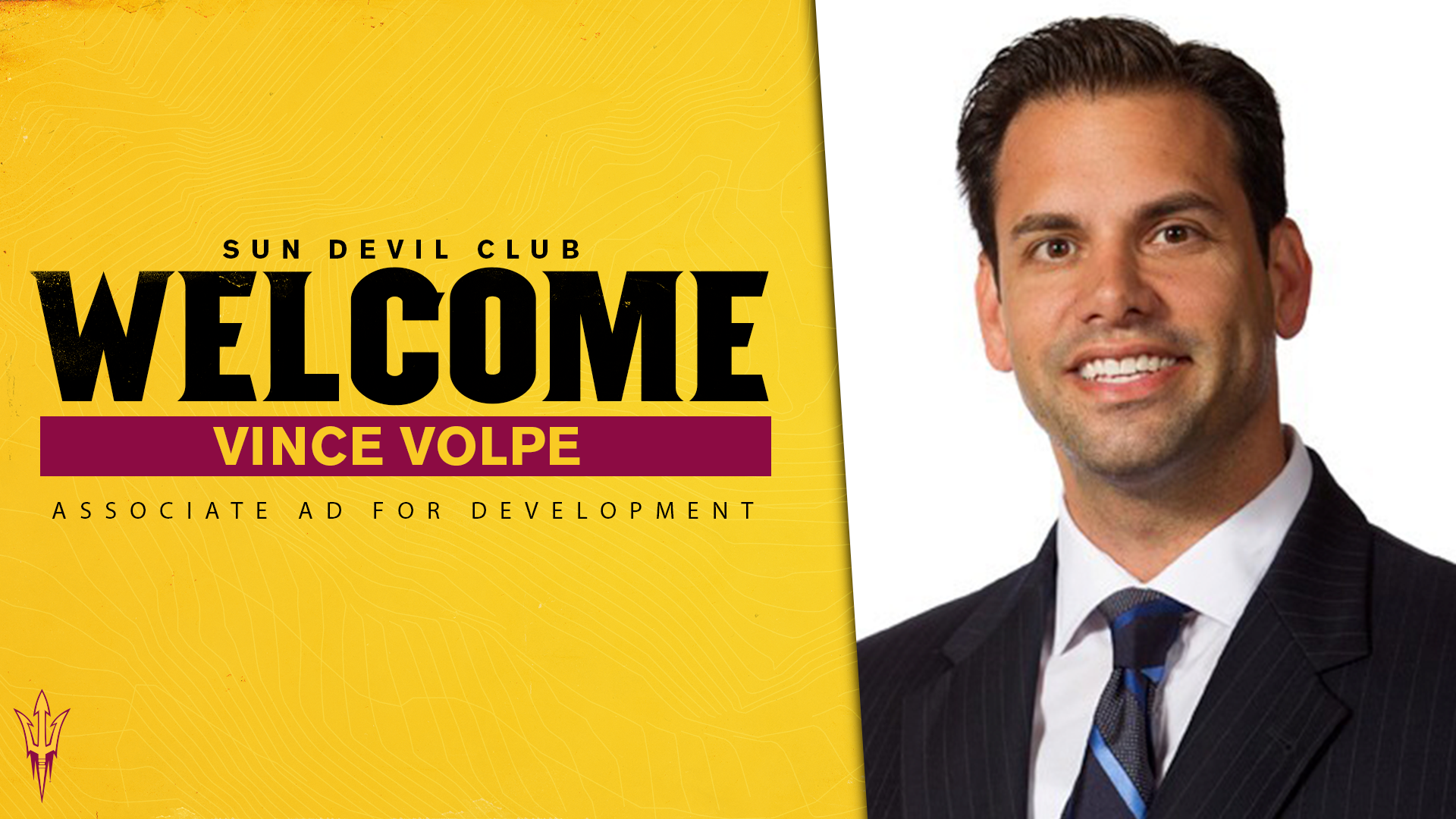 Sun Devil Athletics and the Sun Devil Club names Vince Volpe
as

Associate Athletics Director for Development at Arizona State University
Tempe, AZ.-- Vince Volpe has been named Associate Athletics Director for Development at Arizona State University.
Volpe makes his way to the Sun Devil Club after spending eight years at the University of Texas Rio Grande Valley (UTRGV) as the Deputy Director of Athletics and Chief Revenue Officer. With over 20 years of experience focused on fundraising, Volpe has raised over $40 million in support of various institutions including, UTRGV, UConn, Oral Roberts, and the University of Missouri.
"I would like to first thank Scott Nelson, Gretchen Buhlig and Ray Anderson for their belief and trust in me," shares Volpe.  "Arizona State University is the most innovative institution in the country and Sun Devil Athletics, the Sun Devil Club and our loyal donors are critical components. I look forward to working with our various constituents and the campus community that supports ASU Athletics to continue to elevate the student-athlete experience. My family and I cannot wait to hit the ground running and are thrilled to become members of the Sun Devil family!"
"I am excited to be adding another member to our incredible development staff in the Sun Devil Club, especially an individual with as much experience as Vince has at the collegiate level," said Vice President of University Athletics, Ray Anderson. "As we continue to push Sun Devil Athletics to reach new heights focused on enhancing the student-athlete experience, it is imperative that we have team members dialed in on raising funds to support these initiatives. The future is bright here in Tempe and I am very proud to be bringing in another individual that shares the same passion and vision in supporting our amazing student-athletes."
Volpe will be charged with leading the operations of the Sun Devil Club. These duties include all philanthropic giving in support of Sun Devil Athletics through both major gift discussions and annual fund efforts, as well the letterwinner association and overall donor experience.
"I couldn't be more thrilled to welcome Vince to the Sun Devil Club," said Scott Nelson, Senior Associate Athletic Director. "Vince has a tremendous amount of experience and track record of raising funds in support of the institutions he has represented. Our aspirations as a Power Five athletic department require us to continue to elevate our philanthropic support from the Sun Devil community in order to reach both the academic and athletic goals we have set out to achieve. I have full confidence that Vince is the right individual to join our incredible Sun Devil Club team that is focused on enhancing the lives of our student-athletes."
At UTRGV, Volpe lead the corporate partnerships, development, marketing and promotions and ticket sales and operations units while serving as the sport administrator for the baseball and men's and women's golf and tennis programs. He also served as the department's liaison to Advancement, Alumni Relations, and University Marketing and Communications while working closely with the department's official shoe and apparel provider, Under Armour.

Volpe was instrumental in developing and executing revenue enhancing strategies. Since his arrival in Rio Grande Valley, Volpe and the external operations team increased overall revenue more than 700% and attendance by 470%. These revenue and attendance increases have resulted in several capital projects including the Coach Al and Joann Ogletree Plaza, UTRGV Baseball Stadium renovations increasing fan amenities as well as student-athlete accommodations, a complete rebuild of the UTRGV Fieldhouse Operations Center, enhancing locker rooms for four sports and the addition of a concession stand, training room and equipment room, Orville Cox Tennis Center upgrades, enhanced office space for several sports, and a renovated academic center. Additionally, UTRGV announced a $30 million infrastructure improvement plan that significantly upgraded existing facilities and directly impacted all current 16 sports.

Prior to joining UTRGV, Volpe worked at University of Connecticut (UConn) as the Associate Athletics Director for Development for two years. Volpe directed capital fundraising, major giving, annual giving, the Varsity Club and other sources of revenue generation and strategic initiatives for the Huskies.
 
Volpe came to UConn from Oral Roberts University (ORU), where he served as the Associate Athletics Director for External Operations for three and a half years. As a member of the executive staff, Volpe oversaw development, ticket sales and operations, and licensing while serving as the sport administrator for men's and women's tennis.
 
Prior to ORU, Volpe spent six years with the University of Missouri Department of Athletics in various capacities, concluding as the Executive Director of Development & Tiger Scholarship Fund (TSF). Volpe was a member of the senior management team and oversaw all development operations within the TSF, including the $150 million Champions for Life capital campaign, the annual giving/ticket priority program, the coordination and sales of all suite lease agreements, and the gift-in-kind program. Volpe also oversaw Missouri's 140 endowed scholarships, totaling more than $25 million, as well as estate and planned giving totaling more than $25 million. The TSF is responsible for annual revenue production more than $20 million.
 
Prior to his tenure at Kentucky, Volpe spent five years at Indiana University as a baseball student-athlete, graduate student, and intern in athletics administration, working directly with the executive management team.
 
A 2000 Academic All-Big Ten honoree, Volpe graduated from Indiana in 2002 with his bachelor's degree in sports management. He continued his education at Indiana and graduated with his master's degree in athletics administration in 2003. While studying for his graduate degree, he was an associate instructor within the Department of Kinesiology.
 
Volpe and his wife, Laura, a former gymnastics student-athlete at the University of Missouri, are looking forward to calling Phoenix home with their two sons, Geno and Gavin.
---
The search and placement of Volpe was through a collaborative effort of the ASU Foundation, Sun Devil Athletics and Lindauer Global.
About Lindauer 
 Lindauer is proud to be one of the world's leading retained executive search firms focused on nonprofits. Perennially recognized on Forbes' list of best executive recruiting firms, Lindauer has been a recruitment partner and trusted advisor to organizations of all sizes and maturities across the arts, education, healthcare, science, advocacy, policy, and charity sectors. Behind our work is the conviction that placing top talent in leadership positions enables our nonprofit clients to continue to serve the communities that depend on them for critical services and uplifting experiences. Long known as a fierce advocate of diversity, equity, inclusion, and belonging, Lindauer remains a driver of these values in the nonprofit world.