Shared Love, Shared Impact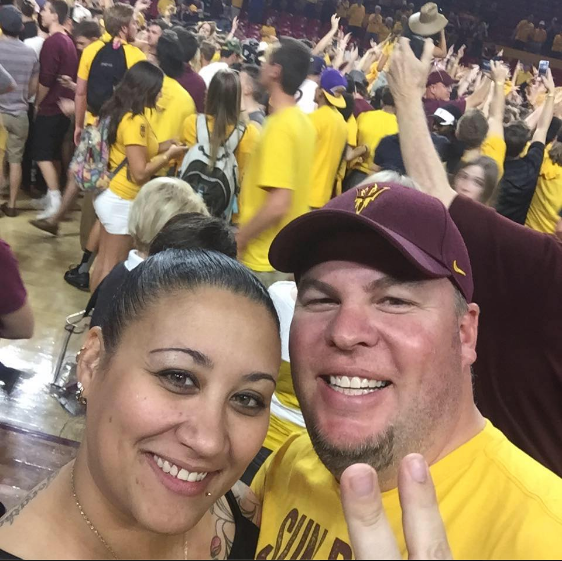 "I'm going to pick up the meat for Saturday's tailgate as soon as I get off the phone."
It's a quarter past 10 on Friday morning on the eve of Sun Devil Football's 2016 season opener against Northern Arizona and Adam Blomker is ready for the eight-month hiatus from his favorite time of the year to be over.
Adam, who's lived in the Phoenix Valley since 1987, is a business owner by trade and a Sun Devil at heart.
"I love Arizona State University," Adam said. "It's a place I've always gravitated to and loved being around."
Adam's affinity for collegiate athletics and ASU ranges from the energy in the stadium and the camaraderie among students, alumni and fans, to the visionary leadership of Vice President for University Athletics Ray Anderson and the passion and energy of Head Coach Todd Graham. And it's clear it's something he's carried with him for decades.
"My dad would take us down to ASU games in the late 80s and early 90s, and that's where it all started," Adam said. "We'd all go to the Territorial Cup game the day after Thanksgiving, which are still some of my best memories and probably the reason Thanksgiving was my favorite holiday for the longest time. I love going to games and just being around sports."
Adam's first donation to the Sun Devil Club came in 2003 in the form of a seat contribution on his season tickets, and ever since then, as the memories have piled up and the friendships have deepened, his involvement with Sun Devil Athletics has steadily grown.
Earlier this year, Adam committed to being a part of first-ever group of Legends' Club members. Along with those in the Founders' Club and Coach's Club, these three groups helped lay the foundation for the reinvented Sun Devil Stadium through not only their generous donations, but also their time spent as community advocates for the project.
"We really wanted to be a part of the reinvention of Sun Devil Stadium, establish ourselves in the new space, and be out in front of the facility as it continues to evolve and reposition itself in the Valley," Adam said. "It's becoming a destination place – not just for football fans, but everyone – and it will really stand out in the collegiate realm."
The Legends' Club, one of three exclusive sections in the premium seating area at the reinvented Sun Devil Stadium, is located on the southwest side and will include a number of unique amenities once Phase III is completed for the 2017 season. Included among them is a climate-controlled lounge, full-service complimentary buffet with select beer, wine and non-alcoholic beverages, flat-panel high-definition screens throughout the interior, wide, comfortable chair-back seats, access to private outside patio in the shadows of "A" Mountain, and a private entry and restrooms.
What begin as just a line item on Adam's season tickets has morphed into a philanthropic effort set on providing resources for Sun Devil student-athletes to get an education and develop as young men and women.
"It goes beyond the entertainment of the game," Adam says. "Your impact spreads across the entire university and really, the community as a whole.
Friends he's had for a lifetime and friends he's recently made, all of them part of his Sun Devil family, descend on his tailgate a little more than 24 hours after he hangs up the phone.
They've all come together on a Saturday afternoon in September to pay homage to college football and the Maroon and Gold. And it's that shared passion, that bond that transcends political ideals, religious beliefs and diverse backgrounds, that makes being a Sun Devil so special.
"We obviously get together with a lot of folks on gameday, both before and after, but we also go to other Sun Devil Athletics games and various Sun Devil Club events throughout the year," Adam says. "Not only do we get to help student-athletes succeed, but at the same we are making lifelong friends. That just made a lot of sense to us."