A Sun Devil Life Is A Fulfilled Life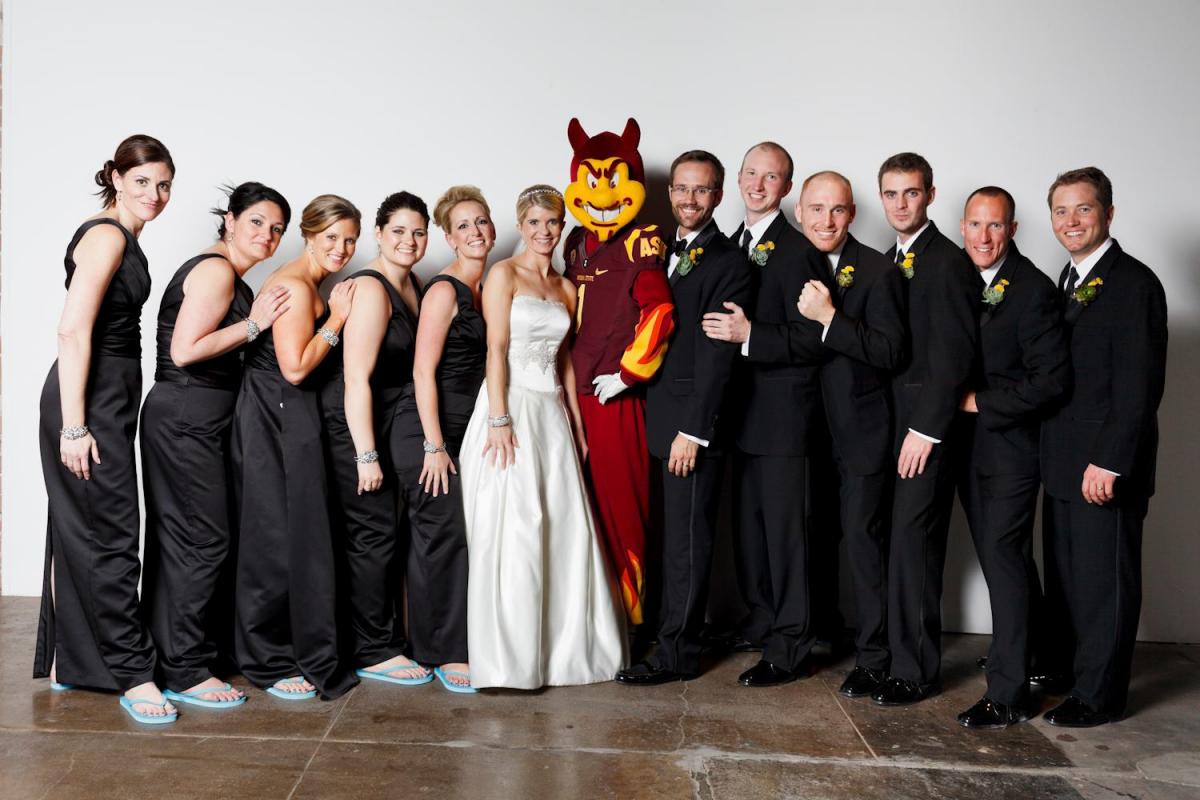 For Jenny Holsman Tetreault, her collegiate experience has been more than a four-year stop for an undergraduate degree. It's been a lifelong journey that has fulfilled all facets of her life, from her education and ensuing career to her sense of community and family.
Jenny's Sun Devil story began in 1996 as freshman political science major. Over the next four years she served as student body president and a member of the cheerleading team, had a stint as Sparky, was a Devil's Advocate, and the Panhellenic President of her sorority, among other endeavors around campus.
Twenty years and a few chapters later, Jenny's Arizona State story continues. Now the West Region Legal Counsel for US Foods, she is a member of the ASU President's Club and Women & Philanthropy group, an Alumni Association Gold member, and the Vice Chair of Wings of Gold.
"I am described by those who really know me as a true Sun Devil and all of the things I have been involved with through ASU have helped me bleed Maroon & Gold," Jenny said. "It's these experiences, both as an undergrad and now, that show you what it means to be a great Sun Devil and to make our university proud."
Jenny's time at ASU not only sparked her intellectual curiosity and passion for learning about the law, but it also allowed her to invest in ASU's rich community, which she says later set her up to invested in her local community. She became involved in ASU's Women & Philanthropy in 2007 and joined the President's Club a few years later, and a meeting with Sun Devil Athletics Chief of Staff Rocky Harris led Jenny toward Wings of Gold.
Wings of Gold, which acts as advocate and support system for all 14 Sun Devil women's athletics programs, is a combination of many of Jenny's interests and passions, including women's rights, leadership, athletics, and of course, the Maroon & Gold. It's the chance for her to be a part of helping young female student-athletes develop into incredible students, athletes, ambassadors for ASU and engaged members of their community.
It's the student-athletes' stories, Jenny says, the mixture of their diverse experiences and unique perspectives, that drive her to volunteer her time and provide philanthropic support. The opportunity to watch them grow from wide-eyed teenagers to polished young adults, and learn about their pasts and post-graduate plans.
"It makes me want to invest in our student-athletes and invest in the university so the next generation of women will have the same incredible experiences," Jenny said. "I want our support to enable these women to live up to their potential, follow their dreams, and achieve their goals, all while competing in a sport they love and getting a world-class education."
The ASU connections and relationships Jenny has built over the years is part of what she says makes ASU and Sun Devil Athletics so special, from Dr. Christine Wilkinson and their time at the Alumni Association, to Dr. Jim Rund and their involvement in Greek life, to Don Bocchi and their efforts with the Student-Athlete Advisory Committee.
"I've been able to get know them as a student, stay in touch as I went through law school, and lean on them as mentors as I tried to navigate my professional career," Jenny said. "And now I'm able to celebrate Sun Devil victories with them and be involved in the community together. It really has been an incredible experience."
She also met her husband, Colin, a professor and manager at ASU's School of Sustainability, while she was serving as the Executive Director of Operations and Chief Legal Counsel at the ASU Alumni Association, and the two of them have started a family devoted to Sparky.
"Some of the first words from my two-and-a-half-year-old son were 'Go Devils' and he gives a daily hug to the totem pole Sparky we have in our backyard," Jenny said.
In addition to work with athletics, Jenny has devoted countless hours to other areas in the university, including the ASU President's Club and Women & Philanthropy group. It's this type of cross-campus generosity that Lexi Killoren, Senior Director of Development for Engagement Programs, says makes Jenny such a special Sun Devil.
"Jenny is the model alumna," Killoren said. "ASU benefits tremendously from not only her philanthropy, but also her volunteer leadership on committees and councils. I am honored to have the chance to work alongside Jenny to engage our community in the inspiring work conducted by our students and faculty."
Being a part of the Sun Devil community is an important part of Jenny's life and in her time with Wings of Gold she plans on helping raise the profile and visibility of its women's sports at ASU and making sure there is sufficient funding to support its female student-athletes and varsity programs. And she hopes to get a few more members of the Sun Devil faithful involved in Wings of Gold.
"Take advantage of everything the school has to offer both academically and socially, solve problems in the community, and engage with this university and athletics department that is creating these graduates who are going on to change the world," Jenny said. "This is the best place to be and to be connected."