Cory Hahn Endowed Scholarship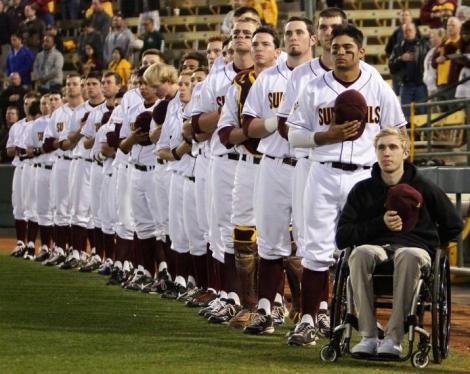 A highly touted high school baseball player, Cory Hahn, Number 34, was paralyzed from the chest down sliding into second base against New Mexico in the first weekend of his freshman season at Arizona State in 2011. He continues to be an active member of the baseball program, first as a student coach and now as a dedicated supporter and advocate.
 The Cory Hahn Endowed Scholarship was established by The Arizona Diamondbacks organization in honor of Cory. "Cory's story is truly inspiring and we are excited to partner with ASU to create a scholarship in his name," Diamondbacks' President & CEO Derrick Hall said. "Cory has made valuable contributions to both ASU and the D-backs and we look forward to helping fund a quality education for future baseball stars in Cory's honor at one of the top collegiate baseball programs in the country."
This fund will assist in covering costs for:
Tuition
Room and Board
Books
Please join the Arizona Diamondbacks in making an impact on the lives of Sun Devil Baseball student-athletes by donating to the Cory Hahn Endowed Scholarship today!
Past Recipients of the Cory Hahn Scholarship
| | |
| --- | --- |
| Scholarship Recipient Name | Academic Year(s) Received |
| Dusty Garcia | 2019-2020 |
| Hunter Bishop  | 2016-2018 |
Your gift to the Sun Devil Club using the link below will directly impact the Cory Hahn Endowed Scholarship! 
Thank you for your support! 

Hahn graduated in May of 2014 from ASU's W.P. Carey School of Business with a Bachelor of Arts degree in business with a concentration in communication. He earned the Wilma Rudolph Student Athlete Achievement A ward, given annually to student athletes who have overcome great personal, academic and/or emotional odds to achieve academic success while participating in intercollegiate athletics, the Gene Autry Courage Award, and the Pac-12 Tom Hansen Conference Medal of Honor. 
"Cory embodies everything we value in an Arizona State University student-athlete - integrity, passion, character, a relentless drive, and service-minded," Vice President for University Athletics Ray Anderson said.
The Arizona Diamondbacks drafted Hahn in the 34th round of the 2013 MLB Draft, and two years later the team named their annual 34th-round draft selection the "Cory Hahn 34th Pick." Hahn currently works in the organization's scouting department.