Email: Danny.Bellissimo@asufoundation.org     Phone: 480.965.2698 (o)
Q & A with Development Officer, Danny Bellissimo:
Why did you choose to work at ASU and Sun Devil Athletics? I attended ASU and graduated in 2015. Part of my undergraduate experience was working with the ASU Foundation in a couple of different student positions. During that time, I started to get a better understanding for what the New American University model is and realized I wanted to be a part of it. On the Sun Devil Athletics side of things, I competed in sports all my life and became an avid Sun Devil fan during my time in school. I knew when I came to the ASU Foundation  I eventually wanted to be a part of Sun Devil Athletics. I feed off the energy around me and I love what Sun Devil Athletics has going on and am excited to be able to contribute to it.
What are some of your hobbies or what do you do in your free time? I love spending time with friends and family. It doesn't really matter if we're hanging out at the pool, playing board games, camping, or making up some new competition to pass the time. I just enjoy being around friends and family. I also enjoy biking, running, playing ultimate Frisbee, and going on walks with my girlfriend and our dog, Penelope
What is your favorite sitcom? I grew up watching Seinfeld at home. It's the original sitcom and gets me every time I find myself watching it. Such a classic.
Who is your family pet? My girlfriend and I have a little rescue pit-bull named Penelope. She's a little shy, but is the sweetest little girl. She loves snuggles, long walks, and doing zoomies in our yard.
What's your favorite thing about working in SDA? For me, it's the people. Being surrounded by a team of people who are passionate and come to work to help support ASU and Sun Devil Athletics every day is pretty awesome. I consider myself pretty lucky to be able to spend my days finding ways to support Sun Devil Athletics and all of the student-athletes, coaches, support staff, and administration through philanthropic endeavors.
What's your favorite ASU memory? Camping out for the Pac-12 Football Championship game in 2013. I went with a group of friends to Desert Financial Arena (then Wells Fargo Arena) and we were not sure what to expect. There were so many tents set up and people had come with big screen TVs and game systems to play all night. I think someone had even brought a pet pig and was walking it around so people could take pictures with it and say hi. It was a once in a lifetime experience to be a part of. There was so much excitement going into that game and we had a blast. Didn't get the "W" but, as fans, we had a really awesome time.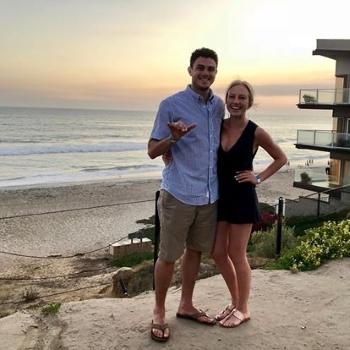 ​