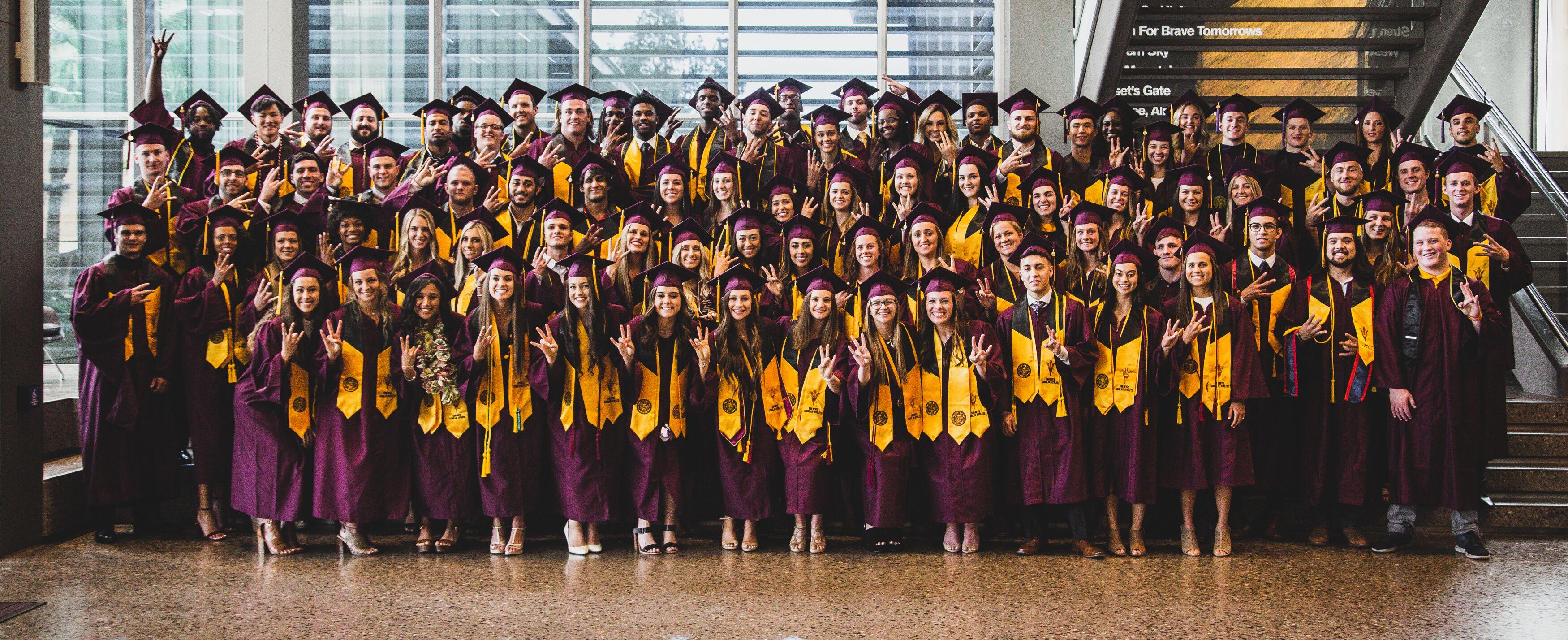 The Sun Devil Club has been the leading supporter of student-athletes at Arizona State University dating back to 1947. With the cost of tuition increasing on an annual basis, the demand for scholarship support has never been greater. While increasing the Sun Devil Athletics' Endowment Fund may not sound as exciting as the reinvention of Sun Devil Stadium, it is on the same level of importance to the future of our student-athletes. The Endowment Fund is critical to providing them the opportunity to compete at a top institution while earning their degree.
Endowed gifts generate a perpetual source of income to the athletic department at Arizona State University, providing the resources needed to attract and retain the nation's top student-athletes and coaches. While there are several types of endowments, our primary focus is on scholarship and programmatic endowments. Scholarship endowments directly support student-athletes by assisting with their costs including tuition, room and board and books. A fully endowed scholarship allows student-athletes to focus on their success not only in competition but also in the classroom. Programmatic endowments are self-sustaining sources of funding that support operational expenses for our teams including travel, recruiting and equipment.
Endowments also allow donors to support a specific sport in a unique way, providing our coaching staffs with the necessary discretionary funds to compete among the nation's best.
Endowments are also an effective way for you to leave your legacy at ASU. You will have the opportunity to name the endowment to honor your family, coaches, friends or as a memorial to a loved one. So I kindly ask that you consider making an endowment gift and join us in securing the foundation for Sun Devil Athletics.
Respectfully,

Ray Anderson
To see a full list of all endowments that support Sun Devil Athletics please click the button below:
Learn More

---
HOW ENDOWMENTS WORK
The endowment you create provides the important enrichment dollars that define the Arizona State University experience. It is the legacy you create, helping propel the university experience from great to extraordinary. In the competitive sphere of higher education, a strong endowment is what allows ASU and Sun Devil Athletics to not only stand out, but to establish new standards for public research universities.
The ASU Foundation board of directors empowers an investment committee made up of members from the board of directors and the financial community at large. The committee oversees the investment of foundation funds, the payout policy and the institutional advancement support.
ENDOWMENT RETURN MATH
Your endowment payout to the Sun Devil Athletics beneficiary of your choice will be provided in accordance with the foundation's routine cycle. Payouts are calculated after the close of each calendar year and provided to the Sun Devil Athletics beneficiary at the beginning of each fiscal year, July 1. For endowment gifts that meet the payout thresholds arriving during the calendar year, payout begins the following July 1. The annual payout is calculated on a constant-growth spending policy, which is subject to a cap and floor (4 percent and 3 percent, respectively) of the 12-quarter average market value.
Endowment Management
The ASU Foundation for A New American University invests and manages your endowment principal with a goal to provide sufficient support each year, despite inflation and market fluctuations, to the endowment's designated purpose and that it is able to sustain this level of support indefinitely. 
As an endowment donor, you receive an annual report on your endowment's performance, including its market value, distribution to its spending account and the impact of your investment. The net return on your endowment principle is the total of interest, dividends, realized and unrealized gains (or losses) less the related institutional expenses for the fiscal year. 
Our spending and institutional expense policies are determined by the Investment Committee of our board of directors, which reviews the performance of the invested portfolio and our investment managers at least quarterly. Should the market value of your endowment fall below original value of the endowment gift, the foundation will continue providing payout to the Sun Devil Athletics beneficiary unless prohibited by the donor.
Our institutional expenses include the costs of managing the ASU Foundation endowment, including administrative, legal, fundraising, financial and reporting obligations.
Methods of endowment giving include:
There are many ways to establish an endowment, and the arrangements for every gift can be personalized to fit your specific needs.
Gifts of cash or securities, either paid in full or through a pledge that can be paid over time
Planned gifts in the form of bequests, charitable gift annuities or charitable remainder trusts
Your friends and family can also make additional gifts to your endowment, increasing the value and impact of your scholarship in future years. All endowment gifts are 100% tax deductible.
MINIMUM ENDOWMENT LEVELS
Full Out-of-State Scholarship Endowment
$700,000 – Position Specific Naming Opportunity
Full In-State Scholarship Endowment
$400,000
Partial Scholarship Endowment
$350,000
Program Endowment
$100,000
**You can start any Endowment at $25,000
For more information or assistance on how to contribute please contact the Sun Devil Club, at 480-727-7700or sundevilclub@asu.edu.
To provide a gift please make checks payable to ASU Foundation:
Sun Devil Club
P.O. Box 872205
Tempe, AZ 85287