The Sun Devil Golf Club allows you to make a direct impact in the lives of our student-athletes and in the success of our golf program on the course. As a Member, Founder, or Partner you will be a crucial part of the team in varying levels, through communication, gear, and team events. Choose to be part of the Sun Devil Golf Club and help us take Sun Devil Golf to new heights. Support Sun Devil Men's Golf Today!
| | |
| --- | --- |
| | "In my mind, Sun Devil Golf should stand alone among college golf programs. We can provide an incomparable experience and level of success to our student-athletes and fans. With support and engagement from our extensive golf community, the loftiest goals imaginable are within our immediate potential. Please join us in building on years of a great tradition and taking Sun Devil Golf to new heights. We need your support and want you on our team. We promise to make it a very fulfilling and connected experience for everyone in the Sun Devil Golf Family."– Matt Thurmond, Head CoachThank you for your support!  100% of your Sun Devil Club membership dues will directly fund Sun Devil Men's Golf program!  |
Your gift to the Sun Devil Club using the link below will directly impact Sun Devil Men's Golf! 
Thank you for your support!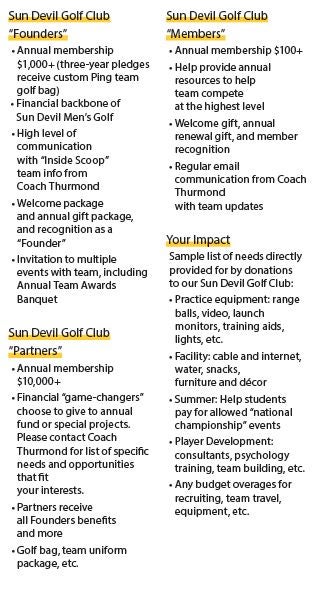 Endowments established in support of Sun Devil Men's Golf